sea products
VALVE & ACTUATOR CONTROLS - UNIVERSAL JOINTS - COVERS/GAITERS
---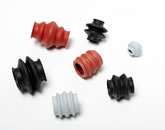 All lubricated universal joints that are installed in positions where continuous external lubrication cannot be supplied should be fitted with grease retaining covers as should joints subjected to dirty or harsh environments.

Chadburns-Mollart PT can supply covers to fit all of their joints. The majority of covers are Neoprene rubber, with some joints P.V.C and Silicon rubber can be offered.

When assembled with the joint at our works these covers would be packed with grease.