land products COUPLINGS - HIGH TORQUE BRITISH-AMERICAN FLEXIBLE COUPLING

---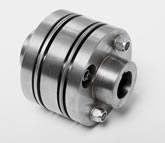 The design is an improved application of the Oldham principle, and makes this joint particularly suitable when angular and parallel or both angular and parallel misalignment is present.

The coupling is ideal for use with machines where it is essential that no pre-loading of bearings can be permitted and where a compact coupling is required.
Chadburns-Mollart PT manufacture these in 6 sizes from Steel with Bronze centres.