land products UNIVERSAL JOINTS - SPECIAL MATERIALS

---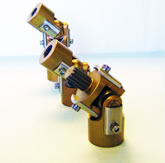 The majority of Chadburns-Mollart PT standard universal joints are manufactured in various grades of steel or gunmetal/aluminium bronze, but for some applications these materials may not suitable or the customer requires the product to be manufactured to their specification.

With our modern CNC machining facilities Chadburns-Mollart PT are able to offer universal joints manufactured in many alternative materials such as: Aluminium, Stainless Steel, Phosphor Bronze, Manganese Bronze etc.

For further information contact our sales department.