sea products
UNIVERSAL JOINTS - DOUBLE - HIGH TORQUE
---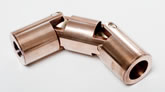 MOLLART DOUBLE 'HOOKES' TYPE UNIVERSAL JOINT

The "MF" double universal joint is one of the most popular joints in the Chadburns-Mollart PT range of commercial products. Offered in 10 standard sizes and manufactured to precise dimensions in high quality materials, the MF universal joint is capable of transmitting at constant velocity high torques of speeds up to 1800rev/min, with working angles for powered operation up to 25 °, the joints can be used where axial tension or compression occurs.

These joints can be supplied with a verity of bore configurations to suit the customer's requirements.

The joints are riveted in assembly and pre greased, if the joints are not to be lubricated when running, grease retaining covers are recommended.

These joints are manufactured in steel as standard but can be offered in alternative materials such Stainless Steel or Phosphor Bronze.