land products UNIVERSAL JOINTS - DOUBLE - SELF LUBRICATED

---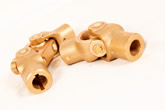 ROBINSONS DOUBLE 'HOOKES' TYPE

The LF1071 range of double universal joints are intended for manual or slow speed operation and used mainly in control rod operation of valves or actuators.
Constructed of gunmetal forks, aluminium bronze pins and 'Tufnol' bushes, these joints do not require external lubrication.
The joints are manufactured in 3 standard sizes with a nominal maximum operating torque of 57NM, 113NM & 170NM at a maximum angle of 30° on manual operation.
Various bore options can be offered together with several non standard sizes of universal joints.