land products VALVE & ACTUATOR CONTROLS - HANDWHEEL UNITS

---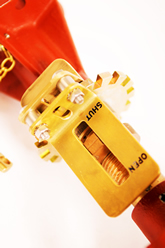 The majority of manually operated control rod systems require a lever of handwheel unit to operate the control rods. Chadburns-Mollart PT offer a range of units in sizes to compliment the other fittings in the system. The basic handwheel unit consists of: handwheel or leaver, spindle and bearing/mounting unit. The mounting unit can be; base (bracket) mounted, flange mounted or gland mounted and are generally manufactured in cast iron, with bearings in Tufnol or leaded bronze, spindles in steel or aluminium bronze, handwheels in cast iron, gunmetal or aluminium and levers in mild steel, aluminium and aluminium bronze.  

All handwheel units are available to operate as ¼ & ½ turn or multi turn and can be fitted with indicators, locking plate and identification plate. Spindles can be supplied plain, keyed and with double extensions.
Handwheel units fitted with Tufnol bearings are pre lubricated and which requires no further lubrication.