sea products
VALVE & ACTUATOR CONTROLS - GEARBOXES - VARIABLE ANGLE
---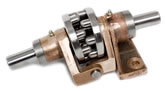 Chadburns-Mollart PT manufacture a unique variable angle drive device known as the UNI-JOINT not exactly a gearbox or a universal joint but incorporating the advantages of both.

The UNI-JOINT is designed for hand operated control systems or slow speed powered systems, the output shaft is fully universal in direction, and the drive is of constant velocity at any shaft angle.

Two standard models (LF502 & LF512) each with 5 shaft sizes and shaft options are available. Manufactured in gunmetal with steel shafts and harden steel driving pins. The plain bearings either greased or pre lubricated Tufnol bearings.