land products VALVE & ACTUATOR CONTROLS - GLANDS

---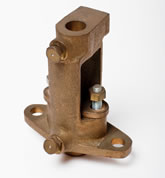 When control rods or shafting have to pass through bulkheads and decks watertight seals are normally required, Chadburns-Mollart PT produce a range of glands for this type of application that also include extended bearing and turn indicators.

Glands are normally produced in cast iron and/or gunmetal and are suitable for square packing rings.

Contact our sales department for details of pressure ratings.