land
APPLICATIONS
---

APPLICATIONS
Chadburns-Mollart PT provides a wide range of manual and power transmission components for applications within land based environments. The design and installation of this equipment has been proven over many years.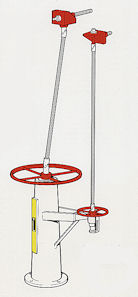 Industrial Application
The manual 'Robinson' transmission system is for the remote or extended control of valves, dampers and actuators requiring a rotary operation. The wide choice of components available offers a tailored solution for even the most difficult applications.
The Chadburns-Mollart PT   Standage power transmission range of universal joints and flexible-resilient couplings have a wide application in powered systems, with universal joints ranging from 6mm to 60mm shafts and flexible-resilient couplings with torque ratings from 0.25Nm to 156000Nm.
In addition to our standard range of products, Chadburns-Mollart PT will tailor and manufacture these transmission components to a customer's specification, design or quality requirements, as illustrated by our work with the nuclear power industry.
For more details, please see Land section on the main menu bar at the top of this page.